Food
Andaman & Nicobar Islands is a melting pot of Indian Culture. This is even reflected in the food & Cuisine of the local people of these Islands.

The finest of India's cuisines is as rich and diverse as it's civilization. It is an art form that has been passed on through generations purely by word of mouth, from guru( teacher) to vidhyarthi (pupil) or from mother to daughter.
Andaman cuisine is heavily influenced by all the cultures that came into contact with the region. Like many other aspects of Andaman culture, the influence of the Hindu, Christian, Muslim and Sikh religions in the traditional food is very strong. You can observe this deep impact on the truly tasty and spicy cuisine of Andamans.

Cuisine in Andaman & Nicobar Islands has roots in the history, geography and culture of the land. The Cuisine of these Islands can also be classified under the following Headings – South Indian food and North Indian food.
South Indian food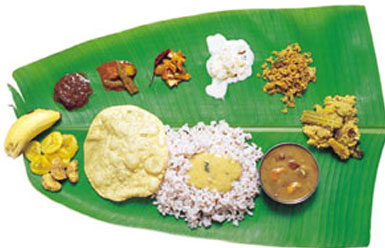 The Malabar Coast in the South India is famous for its spices. Cardamom, pepper, cinnamon, cloves and nutmeg are some of the notable spices, which are found in abundance in the South. The availability of coconut, fish and root tubers have influenced the cuisine of South India. Rice is the staple food for the people of South India instead of wheat, which is more popular in northern states.

For generations, people of South India have migrated & settled in Andman & Nicobar Islands. They  also carried their Food habits & cuisine to these Islands.

The very mentioning of South Indian food, brings to ones mind the tastes of Idlis, dosas, Sambhar and Vada. However, there are more than these that can treat the taste buds. Most of the vegetarian and non-vegetarian dishes of this region have a generous use of spices and coconuts.The final tempering with oil, mustard seeds, curry leaves, red chillies and urad dhal is almost the same for most of the dishes.

For people of Kerala origin, the staple food is fish accompanied with Boiled rice. Banana chips and jackfruit chips are the all time Snacks of people from Kerala and most of the visitors make sure they have at least a few bags of these items in their carry home luggage!

The Andhra cuisine has a great Mughal impact. Their food is known for its spiciness and hotness. The kebabs and the Biriyanis are not to be missed. Home made pickles, pappads and dry chutney powders to be used with dosa or idli or rice are the famous culinary traditions of this region.
North Indian food
Even though most Indian recipes have exotic spices and aroma, North Indian Food have its distinctive characteristics that separate it from South Indian Food.

North Indian food is usually served with thick and tasty gravy. Although there are still some chillies that are included in the recipes, it also uses dairy products including Paneer, milk, butter and Yogurt. Usually, North Indian Food is often served with nuts.

North Indian cooking uses several utensils, one of which is the Tawa. The Tawa is used for baking Indian flat breads like paratha as well as roti. Another utensil used for making North Indian food is the Tandoor. The Tandoor is a huge and a cylindrical oven that can be used over a firing coal. Inside the Tandoor, breads such as the famous kulcha and naan are baked.

Rather than eating their foods with rice, North Indian cuisines are usually eaten with bread. Apart from the baked breads, there are also breads that are fried in deep oil before being served like, Bhatoora and Poori.